Please - Plan to join us to have a great Sunday morning, and -  Feel free to bring your family and friends as we continue celebrate the triumph of Love...and contemplate our response
We have returned to In-Person worship, and we are also continuing to offer our prerecorded online worship services. , and you are welcome to join us on Facebook, YouTube, or Twitch.
Facebook Page @BethelOntario (Bethel Congregational UCC).  
If you prefer not to use Facebook, try YouTube,  CLICK HERE:
 or try TWITCH
After worship,  when in person, we invite you to stay for a fellowship - snacks, coffee, tea, etc... something we always enjoy!
What to expect -i n person or virtual:
Worship at Bethel is open, friendly, and inclusive. You can "come as you are" - we mean it when we say that "No matter who you are, or where you are on life's journey, you are welcome here". We are kid-friendly, family-friendly, and "Open and Affirming".
You will meet loving, welcoming people here. We are also a place where you can make a difference, if you wish.
Worship begins with a few minutes of music - a time to pray, meditate, prepare our hearts for worship. The service includes special music, a time for children, scriptures and inspirational readings, congregational singing (some traditional hymns, some worship choruses - a real "mix" of music), usually Dr. Mann shares a message, and we share communion the first Sunday of each month.
Our service is not always the same - we sometimes explore non-traditional worship formats, sometimes we are traditional...Really, it's all about worshiping in fellowship together, listening, learning, and sharing God's love.
No matter who you are or where you are on life's journey, you are welcome here. - See more at: http://betheluccontario.org/#sthash.9fBlxeZC.dpuf
Here are some tips for online worship:
No matter who you are or where you are on life's journey, you are welcome here. - See more at: http://betheluccontario.org/#sthash.9fBlxeZC.dpuf
~ How to Worship with us ONLINE ~
1. GATHER:
If you're at home with your spouse, family or significant other(s) begin by gathering around a table, or in your family/living room. If it's just you maybe you could just join us with your computer, tablet or phone and a friend to "join" you for worship by doing the same.
2. FOCUS:
Once you're in place light a candle to symbolize the presence of the Holy Spirit. This is a good way to signal that you are entering into sacred time, and the place where you were chatting and laughing just a moment ago has become a sacred place.
3. PARTICIPATE:
Follow along with the online service- use the pdf order of service
(Available on our website, www.BethelUCCOntario.org  )
4. READ:
Read the scriptures along with us. (They are in the online order of service, or use your own Bible)
5. SING:
Sing along with us (the words are there for you on screen and in the "bulletin"!)
6. LISTEN:
Listen to the service, say the prayers with us, take notes on the sermon!
7. CLOSE:
After the Benediction, Blow out the candle.
8. FOLLOW UP
With sharing with your family: comment, feel free to send in questions. And pray together! (Send in prayer requests and we will pray for you and yours)
9. JOIN IN
Our other online activities: Bible Study, and Prayer Group! (Check the website for the latest info)
10. STAY IN TOUCH
My email address is drmann@betheluccontario.org
Here is a pdf of the online worship tips! Just download and print!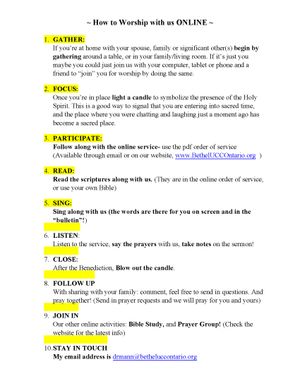 Children's Worship & Sunday School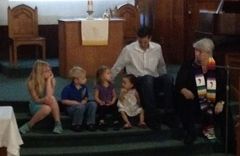 Every week we prepare a special segment of our service for the children, as well as age appropriate lessons for Sunday School. Our children are important to us - so they are welcome! Children begin the service with everyone in the sanctuary, then following the Children's Time in worship, they go to a special class just for them! They rejoin us towards the end of our formal worship, so that we conclude our worship together.
There ongoing opportunities to sign-up for some new and "re-newed" activities, like Handbell Choir, Children's Choir,  Futures Membership classes (Bethel/UCC "101"), Furry Friends, Religious Education, Chancel Choir and more...Sign-up by emailing us!.
---
 Please join us for snacks and fellowship after Worship Service...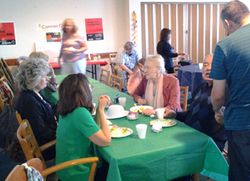 one of the things that Bethel does best.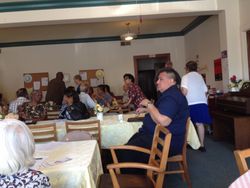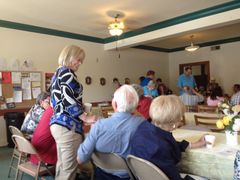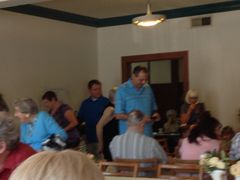 Bethel UCC Ontario is an
Open and Affirming
congregation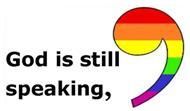 DONATE HERE
Please support Bethel in our ministries. Send an offering or donation here.
NEW - We invite you to CLICK TO FILL OUT YOUR PLEDGE FORM! (Help us plan...)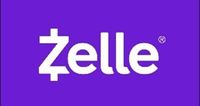 You can now use Zelle to send you offering directly from your bank! Our associated email for Zelle is info@betheluccontario.org (If you use Zelle, we do not have to pay a fee. If you useTithe.ly,  PayPal, or GiveLify, we do pay a small fee - but it still works!)
You can  use Tithe.ly by clicking the GIVE via Tithe.ly button here: (There is an option to cover the small processing fee, and if you are a first time user, you will be prompted to set up your account and PIN (free).
If PayPal is better for you (especially if you need to use a card) - just click the donate button. below.
OR  - here's another option - Give Lify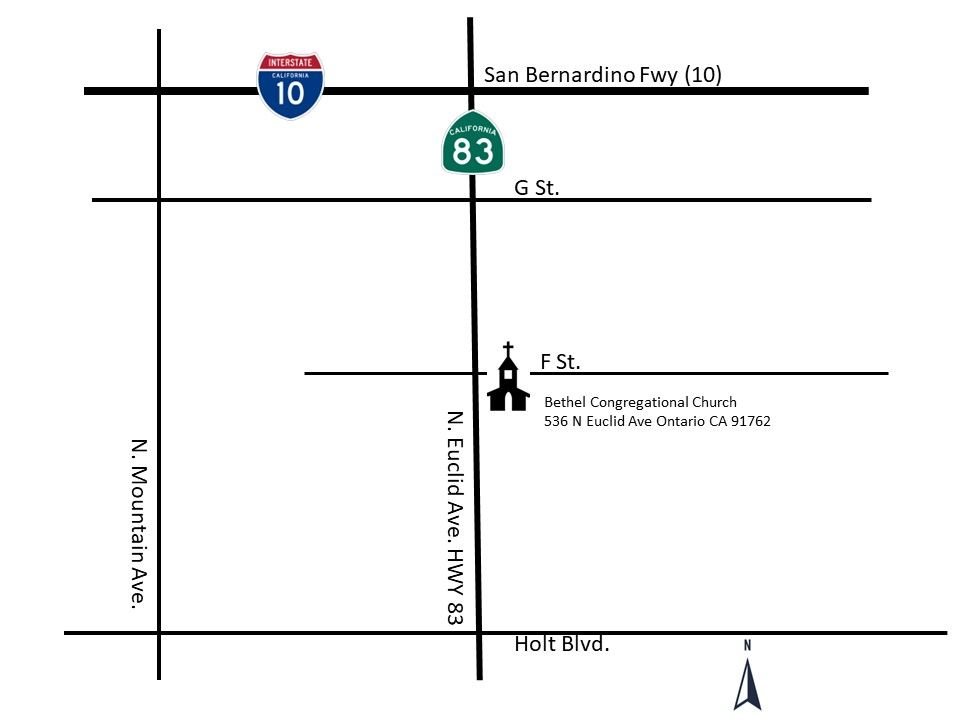 VITAL INFO
Sunday Service 10am. Everyone is welcome. Also available online on our Facebook page
Sunday EARLY Service Online (available on all our Social Media pages)
Worship with us in-person or online.
 Address: 536 N Euclid Ave. Ontario, CA 91762
Office Phone: (909) 984-9111
 Pastor's message line: (909) 457-7893
 Pastor and Minister of Music: Dr. Sylvia Lee Mann  Email Dr. Mann
Membership Inquiry Class (Bethel/UCC 101) : Available upon request. Contact Pastor Sylvia to arrange an appointment
Bible Study - Wednesdays at 6pm in the Parlor (more info on the Bible Study page
Choir Rehearsal - Sunday morning at 9am
Office and Parking lot are in the rear of the building - enter off of F Street.
---

Please join us in our fight against cancer!
At Relay For Life events, communities across the globe come together to honor cancer survivors, remember loved ones lost, and fight back against a disease that has already taken too much. The funds you raise truly make a difference in the fight against cancer – just ask one of the nearly 14 million cancer survivors who will celebrate another birthday this year!
To donate to our team or join us, click here!
---