Furry Friends Pet Food Bank - Pepsi Refresh Grant Winner
NEXT DISTRIBUTION Saturday September 25, 2021 at 10am
(at the south breezeway - enter from Euclid, just south of the main building)
(we  always need to collect more funds or pet food donations for this ministry)
To donate to Bethel's Furry Friends, go to our Donation Page and scroll down to Furry Friends
We LOVE our clients!

NEW - Visit our Donations Page to donate online!!!
---
NEW FEATURE: Here are some special articles written especially for us by Lucy Wyndham, the content editor for a small dog care site and a regular volunteer dog walker. She is generously sharing her knowledge with us! Please enjoy these articles...
Creating a Dog Safe OutdoorSpace
Article by Lucy Wyndham
 Christian love shouldn't just be confined to humans. While God gave us control over all of Earth's animals, with this comes a responsibility to care for them. There are more dogs in California than any other state, with 40% of homes owning at least one. However dog owners may be unaware of the dangers lurking in their own garden. Whether you want to protect your dog from the heat or stop them from eating poisonous plants, it is important to be aware of how safe your outdoor space is. Here are the main things to look out for, to ensure a dog friendly backyard. 
Poisons
As Proverbs 12:10 reveals, "A Righteous man has regard for the life of his animal". Your garden may be full of potentially lethal poisonous chemicals that could be easily digested by your dog. Usually dogs know to avoid poisonous plants, but it is your responsibility as an owner to keep them safe from harm.
Look for animal friendly grass feed which does not contain harmful chemicals. Then there are common plants such as lilies and ivy which should be kept out of your pet's reach. Remember also to keep your dog out of garden immediately after using any chemical cleaner such as bleach. 
Shelter
As a part of God's creation, we should have respect and compassion for the animals of this earth. One way to prevent your dog from suffering the effects of extreme temperatures is to build or purchase an outside shelter, such as a kennel. Ontario temperatures can range from below freezing to upwards 30ºC.
Even in winter, a dog will need to use the garden. You should ensure your pet's safety in cold weather by giving them a warm coat to wear and giving them an area that is protected from the wind. In summer, try to make sure there is a shady place for them to rest and a plentiful water supply. 
Security
Dogs will quickly become bored of their own backyard. This is why they are so excited to have a walk and explore the outside world. However, it also means they may want to escape to neighbours' garden.
 To stop them from running away, make sure to use adequate fencing. You can even purchase a wireless fence, which is the simplest and most effective way of teaching your dog where the boundaries are. If your dog steps over a boundary, it will receive a non-harmful electric shock letting it know not to wander any further. They quickly learn the boundaries, giving you peace of mind that they are secure.
 Christians are dog lovers and this love can be expressed through taking responsibility for their wellbeing. This is in accordance with Proverbs 27:23: "put your heart into caring for your herds." While gardens are generally safe, there are a few precautions you can take to keep your dog away from harm and danger. Avoid poisons, provide shelter from harsh elements and create a clear, impenetrable boundary for complete security.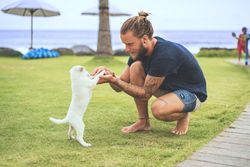 Protecting Your Dogs Against the Heat
Article by Lucy Wyndham
The Bible may not contain passages about the joys dogs bring into our lives, but many people attending Bethel Congregational love their pets dearly and consider them 'part of the family'. Since they are vulnerable creatures, similar in this sense to the children Jesus welcomed with open arms, they need extra love and care because in many cases, they cannot protect themselves against hunger, pain, or extreme weather. In this post, we focus on how to protect your dog against overheating in the warmer months.
Hydration is Key
Human beings are not the only ones who can suffer from heat stroke; in fact, dogs can be far less prepared to put up with vertiginous temperatures, since they cannot cool down by sweating to the extent we do. In fact, dogs only have sweat glands on their foot pads and their main cooling mechanism, panting, can be insufficient on steaming hot days. Ensure your dog has plenty of water available both inside the home and in a shady spot in your garden.
Beware of the Sun
Avoid walking your dog during peak hours of sun and make sure your dog has a shady spot in the garden. Place a fine dog bed or dog house under a tree or within the shade of a terrace. Be wary of the concrete or sand on the beach, which can burn your dog's paws. Test surfaces out yourself before exposing your dog to them - if the surface burns your feet, it will burn your dog's paws as well.
Snowing in the Summer?
Many California residents head for cooler climes in the summer and some mountainous areas can have snow even in peak summer months and in 2016, Mammoth Mountain opened until the 4th of July. If you bring your dog with you on your icy escape, be aware of the biggest risks imposed by walking your dog in the snow - including hypothermia, frostbite and injuries. Bring paw wax to protect the skin in this area, and ensure your dog wears socks or booties to walk upon snow - since balls of snow and ice can harm the gentle skin between their toes. Dress them in a coat or sweater if the temperatures are too cold, and bring coconut oil for cracked areas in their skin such as the nose, elbows or ears. Do not let them wander about on snow, as there can be hidden gaps in the ground they might fall into.
Protection Against Parasites
Make sure to protect your dogs against fleas, ticks, mosquitoes and heartwork, all year round. Hotter states are still vulnerable to the blood-sucking schemes of heartworm causing mosquitoes in the winter and parasites in general can cause severe health problems, including skin disorders, anaemia and leishmaniosis.
Never Leave Your Dog in a Car in the Summer
This is a no-no that should be enforced strictly. Even a few minutes in a car can feel like being in an oven, and can cause your dog heat stroke and possibly death.
The heat can be deadly for dogs so it is vital to keep them hydrated and ensure they have all the shade they need outside the home. If you head for snowy areas make sure you bring all the dog supplies you need and keep your dog protected against disease causing parasites.
---
Thanks to The Village Mutt Dog Wash and Natural Pet Market in Claremont for hosting the Furry Friends this past December and May. Please visit them (click their name to find their website) to let them know you appreciate them!
We always need help to provide the pet food for our clients. Please consider sending a donation of pet food or $ today.
for more info call Bethel at (909) 984-9111 or contact the Pet food bank by email here: info@furryfriendspetfoodbank.org
We are passionate about our mission work. One of our most successful missions is the Furry Friends Pet Food Bank. We collect and distribute pet food to needy families so that they can afford to keep their pets in these hard economic times. We need your help to spread the word about our pet food bank.
We need your donations of pet food, volunteers to help distribute food the last Saturday of each month and of course, help with funding. Please contact us if you'd like to help!
PET FOOD NEEDED! - please donate pet food for our pet food bank. Bring to services, or give us a call at (909)984-9111 or email us  info@furryfriendspetfoodbank.org to arrange to drop off your donation.
Monthly Pet Food Bank Distribution - South Breezeway
 DONATE HERE
Please support Bethel in our ministries. Send an offering or donation here.
NEW - We invite you to CLICK TO FILL OUT YOUR PLEDGE FORM! (Help us plan...)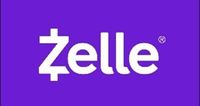 You can now use Zelle to send you offering directly from your bank! Our associated email for Zelle is info@betheluccontario.org (If you use Zelle, we do not have to pay a fee. If you useTithe.ly,  PayPal, or GiveLify, we do pay a small fee - but it still works!)
You can  use Tithe.ly by clicking the GIVE via Tithe.ly button here: (There is an option to cover the small processing fee, and if you are a first time user, you will be prompted to set up your account and PIN (free).
If PayPal is better for you (especially if you need to use a card) - just click the donate button. below.
OR  - here's another option - Give Lify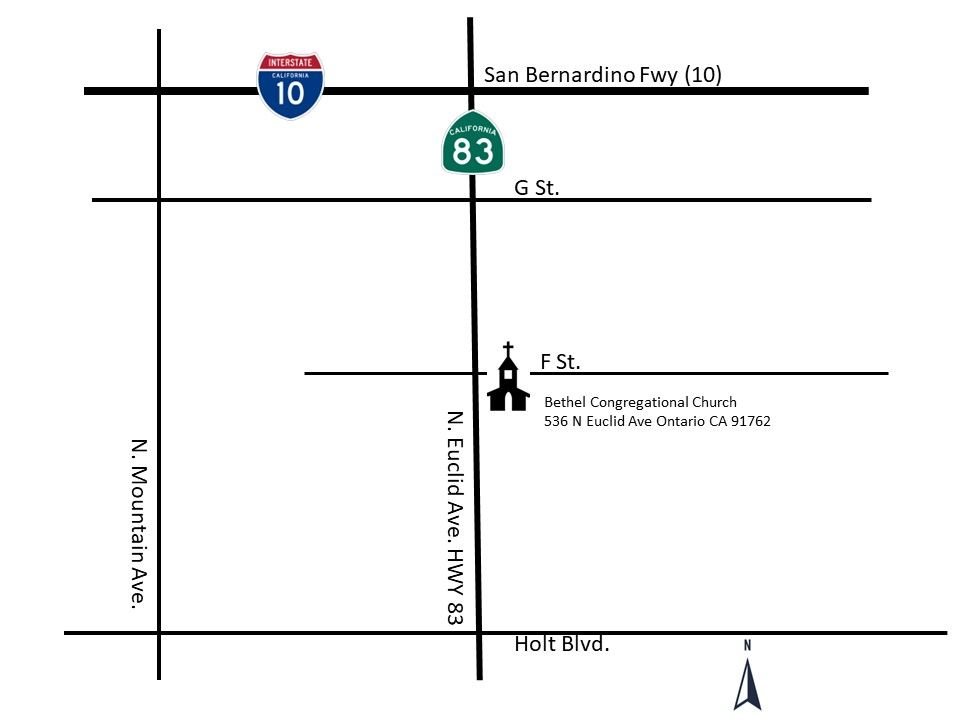 VITAL INFO
Sunday Service 10am. Everyone is welcome.
Worship with us in-person or online.
 Address: 536 N Euclid Ave. Ontario, CA 91762
Office Phone: (909) 984-9111
 Pastor's message line: (909) 457-7893
 Pastor and Minister of Music: Dr. Sylvia Lee Mann  Email Dr. Mann
Membership Inquiry Class (Bethel/UCC 101) : Available upon request. Contact Pastor Sylvia to arrange an appointment
Choir Rehearsal - Sunday morning at 9am
Office and Parking lot are in the rear of the building - enter off of F Street.
---

Please join us in our fight against cancer!
At Relay For Life events, communities across the globe come together to honor cancer survivors, remember loved ones lost, and fight back against a disease that has already taken too much. The funds you raise truly make a difference in the fight against cancer – just ask one of the nearly 14 million cancer survivors who will celebrate another birthday this year!
To donate to our team or join us, click here!
---