Children's Worship & Sunday School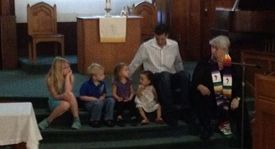 Every week we prepare a special segment of our service for the children, as well as age appropriate lessons for Sunday School. Our children are important to us - so they are welcome! Children begin the service with everyone in the sanctuary, then following the Children's Time in worship, they go to a special class just for them! They rejoin us towards the end of our formal worship, so that we conclude our worship together.
A nursery is also available for younger children.

Children's Choir
Now forming - Bethel Children's Choir. Planning to launch soonr, with possible additional children's music activities - like handbells, instruments, etc.
See Pastor Sylvia or Sandy Gunn to sign up.
Interested singers and musicians can contact us by phoning the music line at , email or by filling out a music interest form here (click)

Bethel Youth
We are happy to announce the Bethel Youth Group: Now forming and making plans - see Pastor Sylvia for more info!
Looking forward to also forming a Youth Music Team, and lots of great youth fellowship activities. Interested singers and musicians can contact us by phoning the music line at , email or by filling out a music interest form here (click)
 DONATE HERE
Please support Bethel in our ministries. Send an offering or donation here.
NEW - We invite you to CLICK TO FILL OUT YOUR PLEDGE FORM! (Help us plan...)
You can now use Zelle to send you offering directly from your bank! Our associated email for Zelle is info@betheluccontario.org (If you use Zelle, we do not have to pay a fee. If you useTithe.ly or  PayPal, we do pay a small fee - but it still works!)
You can  use Tithe.ly by clicking the GIVE via Tithe.ly button here: (There is an option to cover the small processing fee, and if you are a first time user, you will be prompted to set up your account and PIN (free).
If PayPal is better for you (especially if you need to use a card) - just click the donate button. below.
You can now use TEXT TO GIVE! This is another Tithe.ly feature. To use it, text the word give to (833) 364-0261
The first time you do this, you will be taken to a web form to set up your text to give options. (You will only need to do the set-up. Once, after that, when you text to give, it will be automatically ready for you.)
VITAL INFO
Sunday Service 9:55am. Everyone is welcome.
Worship with us online during the "Stay-at-home" orders...
 Address: 536 N Euclid Ave. Ontario, CA 91762
Office Phone: (909) 984-9111
 Pastor's message line: (909) 457-7893
Music line: (909) 283-0237
 Pastor and Minister of Music: Dr. Sylvia Lee Mann  Email Dr. Mann
Membership Inquiry Class (Bethel/UCC 101) : Available upon request. Contact Pastor Sylvia to arrange an appointment
Office and Parking lot are in the rear of the building - enter off of F Street.
---

Please join us in our fight against cancer!
At Relay For Life events, communities across the globe come together to honor cancer survivors, remember loved ones lost, and fight back against a disease that has already taken too much. The funds you raise truly make a difference in the fight against cancer – just ask one of the nearly 14 million cancer survivors who will celebrate another birthday this year!
To donate to our team or join us, click here!
---